Belgard Pavers
An outdoor improvement project, whether for a residential or commercial property, will typically include the installation of pavers. Pavers are the most recommended materials for patios, driveways, walkways, pool decks, entryways, parking lots, and other outdoor living spaces. If you need such materials, just contact us at Bedrock Building Materials & Landscape Supplies. We have a wide selection of paving products that will surely suit your needs and design taste. We source them from Belgard and other leading paver manufacturers in the country. With a broad range of colors, shapes, sizes, textures and installation patterns; you are guaranteed a unique paver project!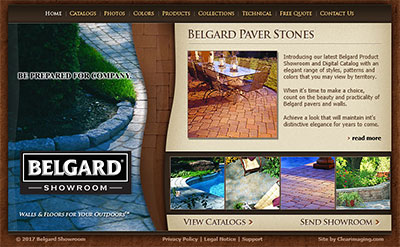 Click here to visit Belgard Pavers website »

Introducing our latest Belgard Product Showroom and Digital Catalog with an elegant range of styles, patterns and colors that you may view by territory.

When it's time to make a choice, count on the beauty and practicality of Belgard pavers and walls. Achieve a look that will maintain int's distinctive elegance for years to come.