Natural Stones in Rosenberg, TX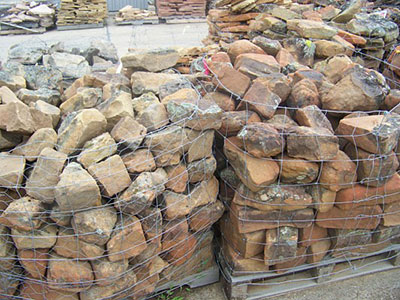 Natural stones add a unique touch to any landscape. These materials may be needed for pathways, walkways, waterfalls, decorative features, and surfacing patios and decks, etc. We at Bedrock Building Materials & Landscape Supplies offer the best qualisty travertine, flagstone, and other natural stone products in Rosenberg, TX.

Whether you are a homeowner, contractor, or architect, we are here to help with all the hardscaping supplies you need. We recognize the importance of using top quality products in every project so that the structures you build are attractive and long-lasting. That is something you can always expect from us. Some of the products we offer include:


Natural Stone
Regardless of whether you are constructing a landscape from scratch or upgrading an existing indoor or outdoor space, including some natural stone in the designs and plans is a great way to achieve a unique aesthetic. We have a wide variety of natural stones that you can choose from, such as marble, cobblestone, slate, bluestone, granite, and limestone in Rosenberg, TX, to name a few.

We source these from the most reputable and well-established quarries in Texas and adjoining states, so you can rest assured they will be of the best quality. These natural stones are ideal for outdoor and indoor improvement or renovation projects. You can use these for walls, countertops, fire features, flooring, and a range of stone crafts. The beauty of natural stones lies in the fact that they can enhance the beauty of the most straightforward structures and surfaces.


Flagstone
Flagstones are an excellent material option for various types of renovation projects in Rosenberg, TX. These stones have a natural aesthetic and appeal. Most people use them for paving walkways, pathways, decks, patios, and other outdoor living areas like outdoor kitchens and fireplace zones, etc. If your project includes any of these outdoor installations, consider selecting some of our excellent flagstones.

We have a massive flagstone inventory such as Texas rattlesnake, Durango & Mexican flagstone, Arizona blend, and Oklahoma rustic. Each of these stones has a unique appeal and can be used to enhance the beauty of your landscape. We can supply this stone in the quantity you need and will deliver it to the desired location as well. Our team is here to guide your choices and help you select flagstones that will be perfect for your project.


Travertine
Today, many property owners, contractors, and landscape developers in Rosenberg, TX, are using eco-friendly materials in their projects. There are certain areas like poolscapes, patios, and decks that can benefit from the use of anti-slip materials like travertine. This is a porous natural stone that can be installed in almost any outdoor area.

It allows water to permeate into the ground and helps to replenish the underground water table. The stone has a natural appeal and is also cool on bare feet. This quality makes it an ideal paver for poolscapes. The stone surfaces are slip-resistant, and you can choose travertine in various shades and hues.

If you are discerning about the quality of the hardscaping materials for your project in Rosenberg, TX, we are the company to contact. Our team is here to answer any questions you may have and provide all the information you need.

Feel free to contact Bedrock Building Materials & Landscape Supplies at 281-208-3131 or this toll-free number - 1-877-261-7445. You can also send us your queries through this Contact Us form, and one of our experts will call you to discuss your project details.