Bulk Materials in Stafford, TX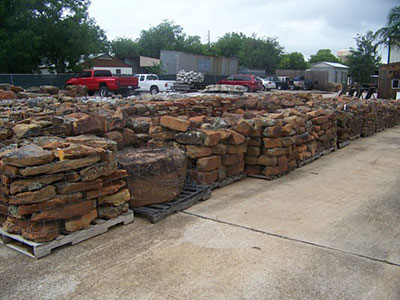 We at Bedrock Building Materials & Landscape Supplies offer high-grade compost, mulch, and topsoil in Stafford, TX. Whether you are a homeowner, contractor, or architect, we are here to help with all the hardscaping supplies you need. We recognize the importance of using top quality products in every project so that the outdoor spaces are attractive and long-lasting.

We are committed to providing clients with superior products that will enhance the beauty and sustainability of their landscape. That is something you can always expect from us. Some of the products we offer include:


Top Soil
It is difficult to maintain the health and beauty of the living features of your landscaping if the soil in the outdoor spaces is not conducive to the growth of any plantings and vegetation. The best solution is to spread good quality, well-balanced topsoil in Stafford, TX, in these areas. The topsoil helps in the healthy and proper growth of all your plantings.

The best way to achieve a vibrant look in your outdoor spaces is by using organic garden mixes along with the topsoil. Our company can always provide these landscaping materials at cost-effective pricing. Many of our clients order these products in bulk, and we can supply the volume you need. We will also deliver the topsoil to your project site or home, as per your convenience.


Mulch
Mulches are commonly spread in various areas of a landscape. These mulches provide some protection to your plantings and help add some nutrients too, and you can use them for aesthetic purposes because of their textures and colors. However, before you purchase any mulches for your landscaping project in Stafford, TX, you must ensure that you source them from established suppliers.

We are a leading company in this industry and only work with the best suppliers in the region. We assure you that our mulches are top-of-the-line. Whether you are a professional landscaper, a contractor, or a DIY gardener, we can supply the required quantity of mulches and deliver them to your project site or home. Our double hardwood mulches and black hummus mulches in Stafford, TX, are high in demand, and you can opt for these.


Compost
Compost is the ideal alternative to any synthetic fertilizer. It is much safer and does not pose any risks to the environment. Whether you are a professional landscape contractor or a gardener, we can provide you with the compost materials you need. We source these from reliable local suppliers so you can be sure they have the perfect mix of nutrients. You can choose from black humus compost, a 3-way blend, or ordinary blend.

You can always visit our yard and select the types of compost you want. We can supply it in the quantities you need and will deliver them to the location. Our knowledgeable team is here to help with material choices, so you get the best compost in Stafford, TX, for your landscape.

If you are discerning about the quality of the hardscaping materials for your project in Stafford, TX, we are the company to contact. Our team is here to answer any questions you may have and provide all the information you need.

Feel free to contact Bedrock Building Materials & Landscape Supplies at 281-208-3131 or this toll-free number- 1-877-261-7445. You can also send us your queries through this Contact Us form, and one of our experts will call you to discuss your project details.