Landscape Rocks in Katy, TX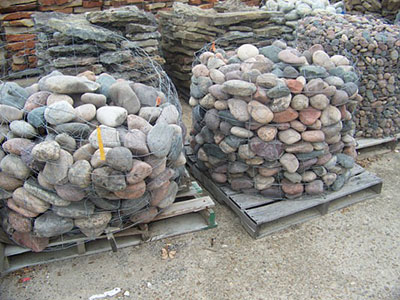 We at Bedrock Building Materials & Landscape Supplies offer high-grade river rock, waterfall rocks, and boulders. Whether you are a homeowner, contractor, or architect, we are here to help with all the hardscaping supplies in Katy, TX, you need. We recognize the importance of using top quality products in every project so that the structures you build are attractive and long-lasting.

That's something you can always expect from us. We are focused on providing our clients with the best grade rocks and boulders in Katy, TX, so that the final installations are unique. We work with you, and our team is here to guide your choices to help you make an informed decision. Some of the products we offer include:


Boulders
If you need boulders for your new or upgrade landscaping project, we are the company that can help. We stock a wide range of boulders and natural stones in Katy, TX. The boulders are available in a variety of colors and sizes. They can be used to add to the beauty and attractiveness of your landscape.

These boulders are ideal for Japanese-inspired garden themes, rock gardens, as well as water features. Our company also handles the delivery and installation of these features as required. We use specialized equipment and tools to manage these projects, so the work gets done efficiently and on time.


Waterfall Rocks
Whether you are a homeowner looking to create some water features on your property or a contractor handling a project, we can provide you the types of waterfall rocks you need. Our company can supply you with the volume of waterfall rocks you need and will deliver these to your location.

Our rocks are sourced from trusted quarries throughout the region, and you can be assured of their quality. You can choose from waterfall rocks in Katy, TX of different textures, colors, and shapes and use your creativity to achieve the aesthetic you want. The quality of the products will always be top-of-the-line so that you have an attractive and durable waterfall on your property.


River Rock
You can use our good quality river rocks in Katy, TX, in different outdoor & indoor applications. They are ideal decorative materials for various landscape features and installations, including rock gardens, ponds, and pathways. Many property owners also get these installed along the edges of flower beds and planter spaces to create a unique effect.

We can supply river rocks of different sizes, and you can surely find a good selection of rocks for your new landscaping project. We maintain a good inventory of these particular stones and cater to the needs of contractors, landscapers as well as DIY homeowners, based on their specific needs.

If you are discerning about the quality of the hardscaping materials in Katy, TX that you use, we are the company to contact. Our team is here to answer any questions you may have and provide all the information you need.

Feel free to contact Bedrock Building Materials & Landscape Supplies at 281-208-3131 or this toll-free number - 1-877-261-7445. You can also send us your queries through this Contact Us form, and one of our experts will call you to discuss your project details.