Retaining Walls in Houston, TX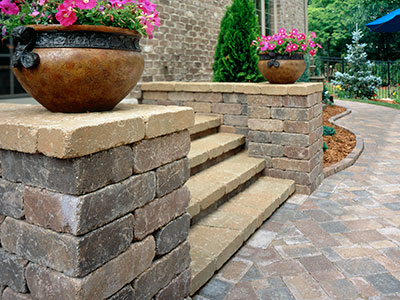 Every landscape is an amalgamation of various features, elements, installations and materials; the only way your landscape will look aesthetically appealing and well-balanced is when all the different features are used in the right proportion. Aside from this, there are certain elements that are specifically built to provide support to the landscape and ensure its stable enough to hold all the elements together. This is where retaining walls come into the picture.

We at Bedrock Building Materials & Landscape Supplies are a well-established company that serves greater Houston, TX and surrounding areas with premium landscaping materials. Our company has been supplying homeowners and contractors with top quality building and hardscaping products for many years now and with great success.


Types of Garden Walls
There are different types of retaining walls that may be installed in a landscape, such as:


Retaining Walls
These walls serve to maintain the integrity of your property while improving the aesthetics of it as well. Retaining walls can be used to support problematic sloped areas or to create a level usable area along a hillside. We generally use CMUs (Concrete Masonry Units) to build these walls, but may also use materials such as wood, concrete, aggregates, and natural stone in their construction.

We are also highly focused on helping you create stunning retaining walls seating walls. Seating walls provides dual functionality and are particularly useful when they are built along the periphery of a patio, deck, poolscape or even a fireplace or fire pit area. They help prevent soil erosion and save floor space due to the in-built seating feature.


Decorative Stone Walls
These walls can be constructed in any area of the landscape such as along the edge of pathways or walkways, in a cozy nook in the garden or any other area in the landscape. They can also offer dual functionality when we build planters along one surface or top of the wall. They can also be used to create seating space around your patio or fire pit like the retaining wall design concept.


Boundary Walls and Garden Walls
If you need to demarcate spaces in the landscape to lend more structure to the existing space, you should consider getting half-height garden walls built along the length of pathways and walkways or even your lawn areas. These walls help prevent the grass or flower beds from getting accidently trampled upon.


Columns
These features can be introduced to help anchor a landscape area to your home. You can use natural stone blocks or concrete blocks to build these columns that can become the structure for a comfortable nook in the garden. We can help you select the right products that will complement the look and aesthetic of the rest of the features in the landscape setting.

We assure you the best landscaping, hardscaping and bulk materials at very reasonable prices. You can speak with our experts and discuss your project details by calling at this number - 281-208-3131. Alternatively, you can send us queries and information about your product needs, via this Contact Us form on our website.