Pavers, Stone Veneer & Retaining Walls Suppliers In Bellaire, TX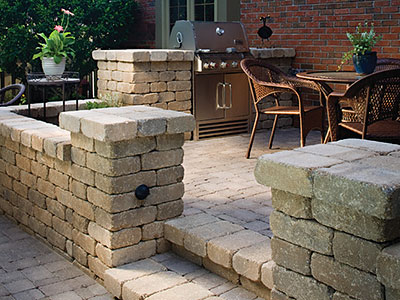 Bedrock Building Materials & Landscape Supplies offers all the paving supplies and materials in Bellaire, TX, required to complete your hardscaping projects. We are your one-stop hardscaping supplies destination in the region. We stock and supply pavers, retaining wall materials, coping supplies, and stone veneers throughout southwest Harris County and the surrounding regions. Whether you want to build a pool deck, driveways, walkway, retaining wall, fireplace, outdoor seating area, or any other hardscape, we have all the materials and accessories to meet your needs.


Pavers
Pavers are versatile hardscaping materials that can be used in different features in different ways. We supply pavers in different designs, colors, styles, shapes, and sizes for all kinds of features including:


Driveways
Patios
Sidewalks
Walkways
Pool decks

Among others. We bring you products from the most reputed brand names in the industry including Belgard Pavers, Pavestone Company, IPC Building Products, Keystone Hardscapes, and Paveloc Pavers. Our experienced and qualified professionals are always ready to assist you in finding the right paver for your project and budget. Part of our service is to help our clients understand the peculiarities of different pavers, brands, colors, and shapes. This plays an important role in matching the right product to each project for optimal results.


Retaining Walls
When it comes to making changes to your Bellaire yard, adding walls can be one of the first thoughts that come to your mind. Retaining walls and freestanding walls are common options and have unique functions. Retaining walls have significant functional benefits and aesthetic reasons for installation. They can hold back soil and are recommended if your property is on a hill, and you want to expand your yard. You may also want to add short walls to add depth to the space.

Whatever your aesthetic or functional needs for a wall, we have the right supplies to help build durable, long-lasting, and beautiful structures. We specialize in dealing in retaining wall supplies from Keystone Hardscapes. These systems have been developed to simplify the process of construction.


Stone Veneer
Stone veneer is a decorative building material, developed to look and feel like natural stone. Also known as cultured or veneered stone, it helps create a long-lasting impression of elegance, transforming your Bellaire home into a statement of beauty. We supply stone veneers in a wide range of colors, styles, textures, and other characteristics for both residential and commercial projects.

Our products are commonly used for projects including boundary walls, fireplaces, fire pits, exterior walls, siding, outdoor kitchens, patio/deck walls, poolscape areas, water features, and other landscape elements.

Some of the best properties that make stone veneers so popular are as follows:


Lightweight: Weighing less than natural stone.
Ease of Installation: There is no need for ledges or footings for installation.
Versatile: Perfectly suited for indoor and outdoor applications. Proper surface preparations mean that it can adhere to almost any surface – drywall, plywood, concrete, paneling, and metal to name a few.

Stone veneer is also a low-maintenance material.

At Bedrock Building Materials & Landscape Supplies, we are driven by the goal to supply all types of products required for your hardscaping projects. Our dedicated staff is always eager to help our clients make the right choice of products after considering their project requirements. We supply contractors, homeowners, architects, and designers throughout Bellaire, TX, and the nearby areas. With us, you will find only the finest products from the most well-known manufacturers. If you want to discuss your project requirements with us, call us today at 281-208-3131 or write to us using this Online Form.