Paver Acessories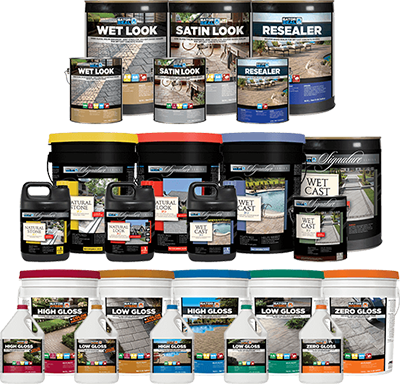 When it comes to paver maintenance, you need to use the best products for the best results, and that is where Bedrock Building Materials & Landscape Supplies comes in. We are a leading company in this industry and carry a wide range of products and materials commonly required for landscape installations and maintenance, such as:


Paver Cleaners
Property owners use paver cleaners extensively to keep all their paved areas looking clean and pristine. There are various unique cleaning solutions available for specific types of pavers, and we are here to help you with all the information you need about what these are. Our team will take the time to understand which paver types you have on your property before recommending the best products, some of which include:


General cleaners
Efflorescence removers
Pre-seal preparators
Dirt & grease cleaners
Rust stain removers
Pro-grade stain and oil removers
Organic stain removers
Tar, rubber, and paint stain removers
Slurry removing cleaner
Paver prep products

Since there are so many different types of products available, making the right choice can be tricky. We are here to help with all your paver cleaning product requirements. Call us and discuss your needs with our experts; they will help guide your choices.


Paver Sealers
We understand that each client will have specific requirements, and their properties will have different types of pavers in the outdoor areas. We offer a range of sealers and coatings, and our team is here to help you select the products that are best suited to your needs. Whether you want the pavers to have a wet, matte, or glossy look, you are sure to find what you need with us. We carry products of the best brands so you can be sure of lasting results. We have products including:


Stain-resistant coatings
Corrosion control coatings
Waterproof sealants
Glossy sealants
Enhancing stabilizer sealer
Wetlook stabilizing sealer
Natural stabilizing sealant

Let us know what types of pavers and stones you have in your landscape, and our experts will recommend the best products. Once you order them, we will ship them to your site at a time most convenient to you.


Polymeric Sand
Polymeric sand is a specialized material used to fill joints in paver installations. These joints are the gaps that exist between each natural stone, concrete, or brick paver stone. This sand is also called hardscape sand, paver sand, or jointing sand and is available in various types. You will find jointing sand in fine and coarse grain with certain additive particles.

Depending on the sand manufacturer, it can be a mix of silica, glues, and chemical binders. When water encounters polymeric sand, the latter transforms into a super-strong bonding agent that holds the pavers together effectively.

Installing jointing sand in between pavers on patios, decks, pathways, walkways, and driveways, allows for even and durable installations. It eliminates the risk of insect infestations and weed growth. We carry various high grade, polymeric sand products, including:


Paver set joint sand
Natural joint stabilizing polymeric sand
Intelligent polymeric sand

Our team will offer their inputs and help you choose suitable polymeric sand for your paver installations. We also stock many other high quality, landscape materials & products and can transport them to your location as and when you need them for your projects.

Feel free to speak with the Bedrock Building Materials & Landscape Supplies experts on our toll-free number - 1-877-261-7445 or 281-208-3131. If you prefer dropping us a line, please use this Contact Us form, and a knowledgeable team member will contact you shortly for further detailed discussions about your project.