Fountains & Pottery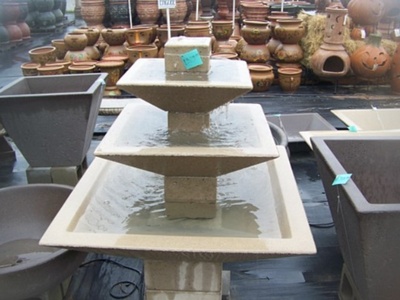 At Bedrock Building Materials & Landscape Supplies, we are one of the leading suppliers of all types of fountains and pottery in Stafford, TX. Our team works consistently to understand your ideas and requirements for fountains and pottery.

They will make sure that the solutions they provide complement your landscape, enhancing its beauty and appeal. Although these seem like decorative elements, their design, and styling matter to the yard or landscape's overall aesthetic. We have all the products required to create a space that you will love to use every day.


Customized Fountain Designs
Moving water has a unique quality that lends calmness and freshness to an outdoor area. We can design and plan simple or elaborate fountains aligned with your requirements and preferences. We work with you and survey the available space to determine what types of fountains will blend in seamlessly with your landscape.

Our team can design all types of fountains for residential and commercial landscapes. You can choose from classic tiered or bowl fountains or disappearing fountains and spillover features for a unique space that looks and feels great. We recognize that every property is different, and it's why we provide a wide range of fountains in materials ranging from clay, carved stone, pebbles, and flinted textures.


Pottery For Landscapes
In addition to fountains, we also design and install all types of pottery for landscapes. The look and styling of these elements will be like other features and installations in these outdoor spaces. We aim to create unique outdoor features that look great while creating focal points in your landscape or yard.

We have many different pottery pieces to choose from, and you are sure to find something that suits your preferences and requirements. Choose from stunning ceramic pottery or something made from clay. Rest assured that we will provide you with the types of fountains and pottery you want to create great spaces in your commercial or residential property's outdoor spaces.


Cost-Effective Fountains and Pottery Products
You will find that our pottery and fountain products are not just unique but also cost-effective. We always ensure that you are 100% satisfied with our products. If you have a specific idea about the type of fountain or pottery elements you want, we will ensure you get what you need.

On the other hand, we recommend products if you aren't sure about what you want and need some ideas and input. We are proactive in our approach, and our staff is knowledgeable enough to help you with sound advice to create stunning outdoor spaces.

In addition to fountains and pottery, we also carry a wide range of landscape construction materials. Whatever your requirements, we can help you with the best solutions within your budget. For more details about all the different products we offer, please call us Bedrock Fountains & Pottery at 281-208-3131 or drop us a line via this Contact Us form. We will call you back soon to understand your requirements and provide the best fountains & pottery solutions.